Pretty Prism Paradise
is the Trio song by
Sophie Hojo
,
Lala Manaka
, and
Mireille Minami
from Episode 12.
| Artist | Duration | File |
| --- | --- | --- |
| TV Rip | 2:32 | |
| OFF VOCAL | | |
Pretty! Paradise!
Yes, We can make Dream!
matteta konna tokimeki
hitorikirija mottainai kocchi ni kite (utaou)

isshoni kanaeru kiseki (kiseki)
todokasetai sora made

soukai zenkai jump
donna jibun ni natte mitai darou
dare datte
ashita wo sukeechi shichau kara

kirakira kagayaite mukashi yori
haato ni chiketto wa motta yo (sou motta yo)
tsugi no suteppu yume no suteeji tobidasou
kororo wa purizumu mitai da ne (sou da ne)

omoi tomaranu kasanatta irai reinboo
mae ni dashite reinboo
minna ga shinjiteru kara

itsumo egao de aou yo
donna jibun mo
donna mirai mo
eranjou

haato ga chiketto ni natta yo (ni natta yo)
tsugi no suteppu yume no suteeji kakacchae
kokoro no rizumu wakashite (todoite)
mirai wa kitto suteki na paradaisu
minna ga agerareru yo

kocchi ni kite
nanda nanda yo
hayaku issho ni asobou

Yes! We can make a dream!
Pretty Paradise!
Yes! We can make dream!

I was waiting for this excitement
Being alone is such a waste, come on over here!
Let's sing
A miracle we can make together (Miracle)
Make it reach high into the sky
Elation! Full speed jump!

What kind of me do I want to be?
Everyone
Can sketch their own future
Shining brighter, brighter than the past

There's a ticket in your heart (there is for sure)
The next step, toward the stage of dreams, let's jump ahead
Your heart is like a prism (it really is)
Unending imagination, overlapping into a rainbow
Bring out that rainbow
We all believe you can

Let's always keep smiling
Whatever kind of you
Whatever future
You may choose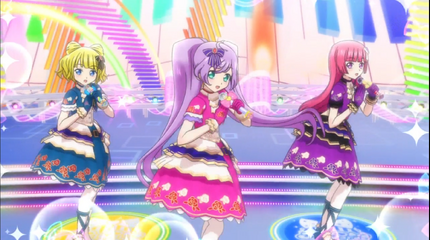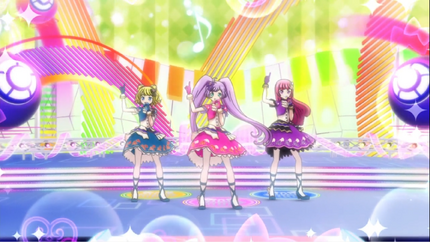 Ad blocker interference detected!
Wikia is a free-to-use site that makes money from advertising. We have a modified experience for viewers using ad blockers

Wikia is not accessible if you've made further modifications. Remove the custom ad blocker rule(s) and the page will load as expected.